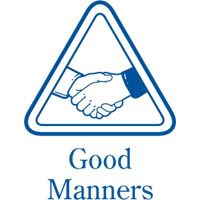 My oldest son is in Cub Scouts and tomorrow night has to present a poster listing five important manners. Well, you know who is really doing the grunt work behind this little project (me!). I sat down tonight to think of five manners he and his friends could learn about and work on. It was hard to narrow the list down to a top five! There are so many manners that our children really need to master in order to set themselves apart from their peers.
As I have gotten older, I have noticed that many children and especially teenagers today sometimes seem downright rude and mannerless. So here's a little soapbox post listing the five manners my son will be sharing tomorrow night. Are these the type of things you want your children to do too? Feel free to comment and add to the list!
Number One: Open doors. If you are passing through a doorway and notice other people coming, hold the door open for them, too.
(Maybe it is because I grew up in the South, where boys are taught to be gentlemen and hold the doors open for ladies, but this is Number One on my list for my boys to learn.)
Number Two: Say "Please" when you ask for something and "Thank You" when you get it.
Number Three: Do not interrupt adults when they are talking. (Unless it is an emergency. In that case, say, "Excuse me," when you need to cut into the conversation.)
(My kids are really bad about interrupting when my husband and I are talking, so I'm sure they probably do it to other adults too. We need to work on this one.)
Number Four: If you bump into someone on accident, say "Excuse me."
(Have you ever had another adult just knock you out of the way and keep right on going without a word of apology? I think that is so rude!)
Number Five: When you have had a play date at a friend's house, remember to thank your friend and their parents for having you over and for the good time you had at their home.
(I instantly love someone else's kid just a little bit more anytime they remember to show appreciation and say Thank You when I have them visit our house.)
So there you have the Top Five Manners on my son's poster. What do you think of them? Good?
We'll also be teaching the boys how to write a handwritten Thank You note. I think in today's world of e-mail, the handwritten thank you note is becoming a lot less common, even among adults like myself. What do you think? Do you prefer a handwritten thank you note or will an e-mail suffice?