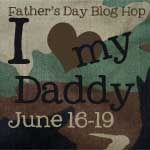 Father's Day will be here in less than 2 weeks and it's ALMOST time for the I Love My Daddy giveaway blog hop to begin. This multi-blog giveaway event is hosted by Makobi Scribe, Jamie's Precious Peas, and Little Yaya's. There are many other excellent participating blogs and I have sneaked peeks at some of the other prize packages up for grabs — you will not want to miss this event!
Be sure that you stop by next week between June 15-19 and enter to win the Mom Always Finds Out prize package for dad. Then, use the linky I will have conveniently posted for you so that you can hop on to the rest of the blogs and enter to win theirs too!
I appreciate all of my I Love My Daddy event sponsors. I will be posting my reviews of the giveaway prizes ahead of time – so be on the lookout for those. For now, here are the links to their web sites.
*Executive Gift Shoppe* — Click Here To Read My Review Post
*Three60Gear*