You know good things are going to be inside a package that has a colorful sticker on the outside that says "Quack! Quack! Your snacks are here!" My Little Duck Organics snacks had arrived!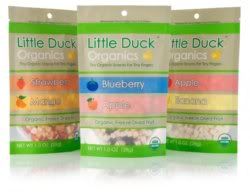 Little Duck Organics is a company dedicated to making baby and toddler food that is natural, organic, healthy, and unprocessed. Not to mention YUMMY! My family received a care package full of a variety of the Tiny Fruits: Blueberry Apple, Strawberry Mango, and Apple Banana. Each resealable bag of dried tiny fruits contains 4 servings of fruit and no preservatives, artificial flavorings, or chemicals.
The Tiny Fruits are the perfect size for babies and toddlers learning to self-feed, plus the snacks dissolve quickly in their mouths. And just because these are supposed to be baby and toddler snacks doesn't mean older kids (and adults) can't enjoy them. My 3 year old and 7 year old each grabbed a bag of snacks and started chowing down before my 1 year old even knew what was going on!
He finally got his turn to sit down with a bag of his very own. He shared some with me so that I could try them too. The kids and I all agree that these taste delicious! We all had a different favorite flavor – the baby liked Apple Banana, the older kids liked the Strawberry Mango, and I liked the Blueberry Apple best.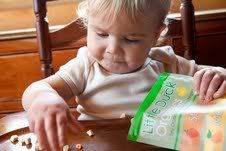 Little Duck Organics snacks are one of those snacks that moms can easily carry around for baby to snack on – and end up eating most of them herself because they are just so good. (Am I talking about myself here? – Yes!) I also like that the dry tiny fruits don't leave sticky fingers and faces or stains on clothes. But that is just an added bonus! I love that my kids enjoyed eating something that was healthy and wholesome.
You can purchase Little Duck Organic snacks online at Amazon.com, Diapers.com, Abe's Market, and Alice.com. They are also available at select retailers around the country such as Whole Foods Market. There is a store locator at the Little Duck Organics website to help you find the retailer nearest you.
Learn more about Little Duck Organics at their website. You can also connect with them on Facebook and Twitter.
Disclaimer: I received samples of Little Duck Organic snacks to facilitate this review. No other form of compensation was received in exchange for my review. All opinions expressed are my own.