Labels seem to be all the rage right now – so when I was contacted about reviewing Avery labels for The Organization of Moms, I was happy to do it.
I received a set of Avery Clear Easy Peel Address Labels and set out on a quest for something in my house to label that would be useful for other moms to try at home, too. I looked no farther than the 5000 children's books crammed onto the bookshelves in my kids' room and knew I had found my project!
Since we recently celebrated Dr. Seuss' birthday and added a few Dr. Seuss books to our collection, I decided to use the Avery labels as name plates inside our books. A quick internet search led me to a cute Dr. Seuss-like font called "Grinched," which I downloaded and used to create my labels. So easy! Here are the results: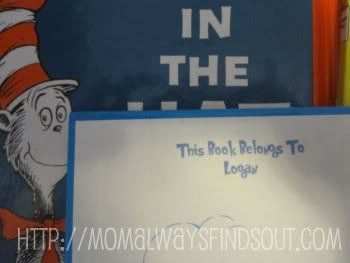 Our Dr. Seuss collection was successfully labeled in less than 30 minutes from start to finish. I was pretty proud of myself for thinking up this easy little project. It's not fancy, but it's cute, easy to do yourself at home, and not expensive at all.
Visit the Avery website for more project ideas and free templates, as well as to learn about their many other products.
Thank you to the Organization of Moms for giving me the opportunity to try Avery labels at home.