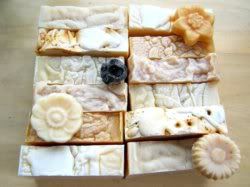 I am a handmade soap lover! I can browse online soap shops for hours, looking at all the beautiful colors and textures, and imagining what the delicious-sounding fragrances smell like. (Although I know EATING soap is wrong…doesn't "Orange Pound Cake" sound like it would taste SO good?)
If you are looking for an easy way to incorporate natural products into your lifestyle, swap your old soaps for beautifully handcrafted soap like the ones you can find at The Elegant Hedgehog on Etsy. The Northern Naturals soap you see here is made by a talented artisan from Canada. They are divine! And very Eco-friendly: All soaps are made using only natural ingredients and packaged in 100% recycled and biodegradable materials. No palm oil is used in their soaps because of its negative impact on the environment.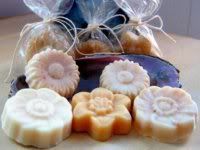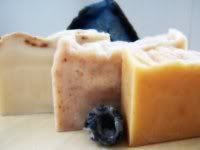 My personal favorite is Oats and Honey – I am always a sucker for this classic "flavor" of soap! I've also tried Spice Cake, Orange Pound Cake, and Tranquility…and loved them all! Can't decide which ones to try first? There is a "Guest Soap Sampler" where you get to pick any 5 scents you want in 1.5 ounce sizes. Ready to stock up for a year of deliciousness? You can get an entire "Year's Worth of Soap" that includes your choice of any 12 full size soaps (3.5-4 ounces). Check out all of the Northern Naturals soaps here, where every purchase includes a bonus!
Just a sidenote from my personal experience with using natural, handcrafted soaps: You will NEVER want to use any other type of soaps again, ever, which is fine because not only are you living greener, you are pampering yourself at the same time!
Edited to Add: Beth has offered a 15% off discount code at The Elegant Hedgehog. Use HEDGEHOGFRIENDS at checkout and save! Thanks, Beth!