Disclaimer: My blog is always family-friendly and this blog post is G-rated. However, this post contains links to EdenFantasys, an adults-only online store. This post contains a picture of a woman wearing lingerie. Please make sure no children under 18 are around if you decide to click on any EdenFantasys links.
A couple of weeks ago, I posted a little bit of an introduction to an online adult store called EdenFantasys and their broad range of products (click HERE to read). Since I have found that I feel comfortable shopping for lingerie and adult items from the privacy of my home computer, I have decided to post a couple of times a month about EdenFantasys products for myself and those of you who may be interested.
Easter is coming up soon, so just for fun, I decided to use the "Search" box at EdenFantasys to look for anything containing the word "bunny". There were 66 interesting results! I was hoping to find some bunny-themed lingerie – and was not disappointed. It is pink and black, and even includes a set of bunny ears! Here it is: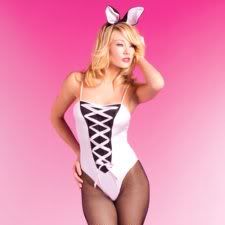 Visit EdenFantasys site for more photos of this piece – it even has a fluffy little black bunny tail on the back. This sexy pink bunny teddy is ranked in the Top 100 Sexy Costumes on the site. I think it is pretty cute and could be a fun little Easter bunny surprise for you (or your significant other).
Any EdenFantasys order comes with a free gift. The current free gift promotion page says you will receive a Flower vibe ($26.99 value). Please note that the free gift will not be automatically added to your order, you will need to be sure to click on the "Free Gift With Any Order" link found at the top of the store page and follow the directions to add the free gift to your order. As always, there is Free Standard Shipping on every order over $59.