Frecklebox is the go-to place for personalized back to school necessities that will help your student stand out in a crowd. Shop for school supplies like personalized notebooks, lunch boxes, school folders, clipboards, binders, and more. There are so many colorful, fun themes for boys and girls to choose from.  Students can even coordinate all of their school supplies with the same theme!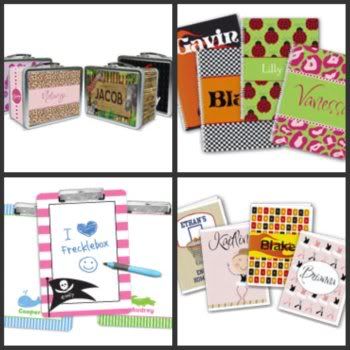 I was able to select a variety of fun Frecklebox items for our review (Seen pictured below). We received a personalized school folder, set of bookmarks (note how they coordinate with the folder), notebook and chore chart. Our order shipped out quickly and I was very happy with the high quality of everything we received.
My children feel special seeing their name printed on their new school supplies. They also enjoyed selecting their favorite Frecklebox themes (Pirates, Flames, and Monsters – they are definitely boys!).
Even though a Chore Chart isn't technically a "school supply," it becomes one at our house! I got it to remind my son of the chores he needs to do when he gets home from school, so I don't have to nag him about it every day.  The dry erase chore chart comes with magnetic strips for the refrigerator and sticky tape strips for anywhere else.  We have ours on the refrigerator and so far it is working quite nicely to help the boys remember chores.
Frecklebox is a wonderful place to find personalized gifts for kids. In addition to all of their Back-To-School supplies, there is a nice selection of Party favors, Books, Décor, and Activities. Everything in your order can be personalized – and everything ships out within 48 hours so you get your items FAST!
Fun Fact: Frecklebox is an eco-friendly company.  All books are printed on recycled paper.
Disclaimer: I received Frecklebox items for free in order to facilitate my review. All opinions expressed are 100% my own and based on my experiences with the products.