This post brought to you by Sam's Club. All opinions are 100% mine.
You may love it. You may hate it. But there's no denying it: Green Bean Casserole is the dish that makes a holiday dinner complete. Years ago, some loving granny must have thrown together the 3 ingredients she had left in the pantry: Cream of Mushroom Soup, Green Beans and French Onions. And she produced a tasty casserole that has become a holiday tradition for families everywhere.
So will you be dishing Green Bean Casserole onto your holiday dinner plate? I will! I admit, I am a fan of the Green Bean Casserole – however, I'm pretty sure my Southern family doctors up the basic recipe a bit and adds goodies like cheese and other secret ingredients I haven't figured out yet. Does your family have a special way to prepare Green Bean Casserole or is everyone happy with the classic recipe?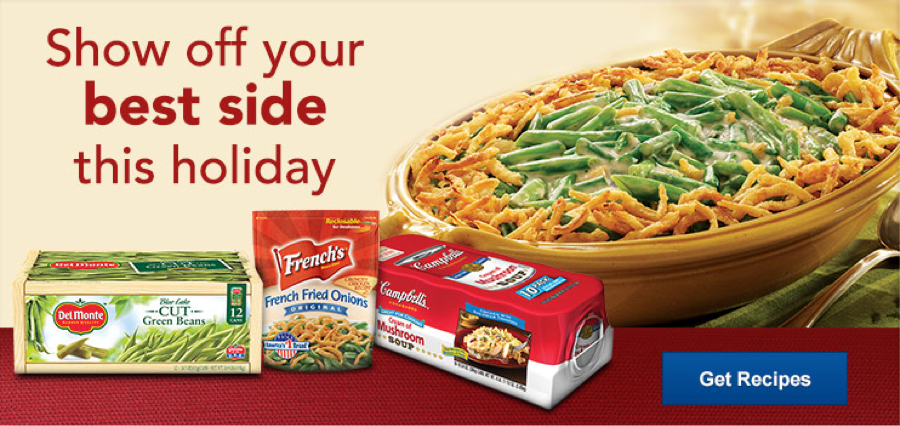 Check out these helpful holiday recipes that can really boost up your menu using only a few simple ingredients. You can also find the classic Green Bean Casserole recipe for both large and small groups, along with other dishes inspired by the 3 basic ingredients from the original recipe.
Once the holiday excitement has died down and the green bean casserole has long since been eaten, you can go beyond the casserole! Use the site to help you find recipes that use those same ingredients to create other delicious dishes.
Try comfort food with a twist, like the Crunchy Oven Chicken and Noodle Dinner or The Ultimate Creamy Mashed Potatoes. The Crunchy Oven Chicken and Noodle Dinner takes only minutes to prep and is ready to serve in under an hour!
Crunchy Oven Chicken and Noodle Dinner Recipe
Prep Time: 15 minutes Cook Time: 35 Minutes Serves: 4
Ingredients:
1 (10.75-oz.) can Campbell's® Cream of Chicken Soup
1-1/4 cups milk
2 cups (4 oz.) French's® Original French Fried Onions
1 cup frozen vegetables of your choice
2 cups cubed, cooked chicken or turkey
Cooking Directions"
Stir soup, milk, 1 cup French-fried onions, vegetables, chicken, noodles and 1/2 cup cheese in a 2-quart baking dish.
Bake at 350°F for 30 minutes or until hot. Stir.
Top with remaining cheese and French-fried onions. Bake 5 minutes until onions are golden.
Be sure to shop Sam's Club for the ingredients you need to serve up the tastes of the holidays this season.
Will you be serving the traditional Green Bean Casserole for the holidays this year? What is your favorite holiday dish?