This is a Sponsored post written by me on behalf of Scotts Miracle-Gro for SocialSpark. All opinions are 100% mine.
Warm weather has arrived and our grass is finally starting to grow greener! I have been looking around at pictures of pretty gardens to get some "Yard-spiration" for my own garden areas. What do you think of these beautiful yards?
I especially love the tiny blue flowers as the ground cover!
The vibrant color of these flowers is Ah-Mazing!
I have always wanted to plant Hydrangeas in my yard. Maybe this is the year I do it!
Your yard is waiting for you to make it beautiful this Spring! It does not take a lot to give your yard a quick jumpstart. However, to make things easier on yourself, you will need to gather a few must have gardening supplies:
Plants. Be sure to pick plants that will grow in your zone of the country.
Gardening Gloves. They will protect your hands.
Shovel. It makes digging holes in the dirt a lot easier!
Wheelbarrow. You'll be amazed at how useful a wheelbarrow can be for all your yardwork!
Scotts Florida Select Natural Eucalyptus Mulch
Why use mulch?
Mulch helps to maintain moisture, prevent weeds, and created a groomed landscape all year long! Spend a little time mulching your yard this Spring and sit back, relax and enjoy the rewards! Scotts Florida Select Natural Eucalyptus Mulch is perfect for your sustainable gardening needs. It is made from 100% Florida Grown Eucalyptus that is sustainably grown and harvested. Plus, a 3-inch layer naturally prevents weeds by blocking growth and access to sunlight.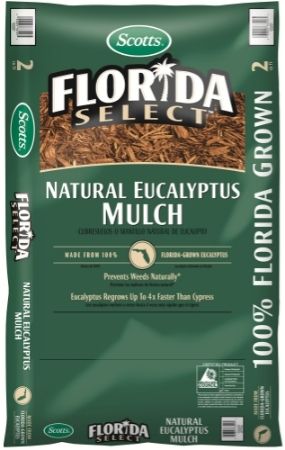 How To Use: Spread a layer of mulch 3 inches deep. Keep mulch several inches away from tree trunks, house foundations and other wooden structures.
When To Apply: Apply around trees shrubs, vegetables or flowers after seeds have germinated and plants have developed.
Where To Use: Apply around trees, shrubs, vegetables or flowers after seeds have germinated and plants have developed.
Where NOT To Use: Do no apply before seeds have germinated, around underdeveloped plants or within several inches of house foundations and other wood surfaces.
What Mulch Should You Use If You Live Outside of Florida? 
If you are non-Florida reader, there's great news for your gardens, too! Try Scotts Nature Scapes mulch for your landscaping needs this Spring. They are natural forest products and come in a variety of colors and textures. Color choices include: Classic Black, Sierra Red and Deep Forest Brown.
We currently have black mulch in our yard, and I really like the contrast it provides with the light color of our house. Which color of Scotts Nature Scapes mulch would look best in your yard? Let me know in the comments.