As a parent, I am always looking for opportunities to teach my children about the importance of taking care of our Earth. The Kids Konserve company and their products strive to teach kids the importance of remembering to REUSE. During Earth Week (April 18-22), schools can register (CLICK HERE) to compete with other classrooms across the country in the "Reduce Your Lunch Waste Classroom Challenge." Winners will receive a Kids Konserve Snak Pak for everyone in the class ($22 value – see below). Why not ask your child's teacher if you can sign up their class to participate? I think it would be a great Earth Day activity!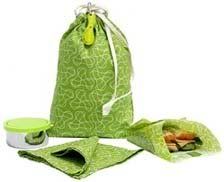 (above photo) Reusable Waste-free Snak Pak includes cotton draw string bag, cloth napkin, food kozy, 304 food-grade stainless steel food container and recycled aluminum name tag. Draw String Bag is 9″ x 13″.
All Kids Konserve products are Non-toxic, Non-leaching, BPA, PVC, Phthalate-free and Lead-free!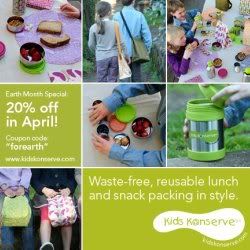 Kids Konserve is also offering a special 20% discount code valid through April. (forearth)
Please visit their website to see all the Kids Konserve products, as well as sign up for their newsletter and read the Kids Konserve blog. Their site has a fun Kids Korner of activities that will help teach children about going green.
Connect with Kids Konserve on Facebook and Twitter.
Disclaimer: This post was written by me and was not compensated by Kids Konserve in any way. I enjoy spotlighting companies and products that encourage Eco-friendliness and was happy to write this as part of my Eco-Friendly Friday blog post series here at Mom Always Finds Out.