Are you looking for a unique piece of jewelry for yourself or for another special person (like Mom)? Visit oftheearthjewelry on Etsy and check out the "Mothers Nest" wire-wrapped pearl jewelry collection. Each item is available for purchase separately or you can buy them all as a matching set!
Here are pictures of some of the possibilities- please note there are many color options available for these items to be customized to suit your needs. There is a color chart available at oftheearthjewelry shop on Etsy.
Mother and Baby Boys Robin's Egg Necklace Nest (Silver):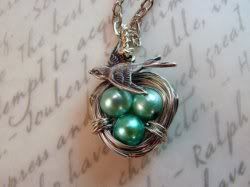 These are the perfect keepsake pendant for a mother to have to represent the love for her three children. Have 2 kids? 4 kids? No problem, she customizes the necklaces with 2 and 4 pearls too!
Custom Made To Order Robin's Egg Ring:
Robin's Egg Nest Earrings: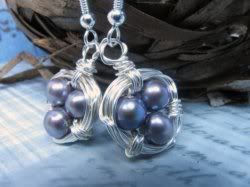 Robin's Egg Nest Bracelet:
Aren't these pieces so fun? I love jewelry that has a personal symbolism behind it and think Mother's Nest pieces are not only pretty to wear, they also appeal to that sentimental part of any mom's heart!
oftheearthjewelry is giving a LIMITED TIME 20% OFF DISCOUNT CODE to you! Use code: Momalwaysfindsout between April 13-April 27. This is a great opportunity to have time to place your custom order in time for Mother's Day! Thank you, oftheearthjewelry, for this special offer.