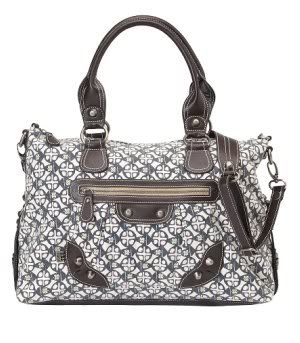 OiOi
has been setting trends for diaper bag design and style for more than a decade. The label was developed in Australia, but the love for OiOi's fashionable bags quickly spread to Europe, the United States, and throughout the world. These diaper bags are an essential item for stylish moms who want a bag that looks good and is made to last. You will want to check out
the latest collection of OiOi diaper bags
and their cool designs and fabrics. I recently received the
Safari Medallion Indigo Slouch Tote
(pictured above) for review.
A Few of the Many Reasons To LOVE This Bag:
It's made From Eco-friendly 100% organic cotton
It's so stylish, everyone will want to know where you got your bag
The generous size and practical features will keep you organized (and sane!)
The Safari Medallion Mood Indigo Slouch Tote has a gray and creamy colored geometric print on the outside and an unexpected flash of pretty green (Warm Olive) lining the inside. The neutral tones on the outside of the bag will appeal to just about everyone – I know I love a bag that goes with anything.  This gorgeous bag combines the best of modern form with all the function an on-the-go Mommy needs.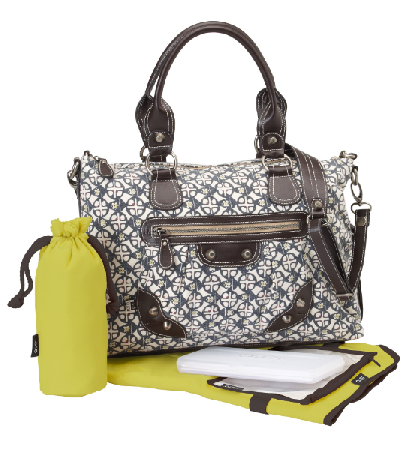 Here's a peek inside mine: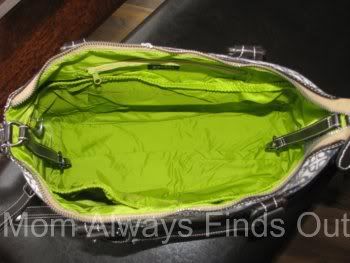 Love the fun color!
My Favorite Features:
A spacious main compartment lined with water resistant nylon.  The water-resistant vinyl liner is nice, especially if you're like me and have frequent bottle or sippy cup leakage inside your bags. It is really easy to wipe and keep clean.
Elasticized inner pockets expand to hold tons of baby necessities.
Key fob. Key fobs may not seem like a big deal, but I have learned they are a must-have feature for my diaper bags – otherwise, I'm tossing my keys into the depths of Diaper Bag Abyss and I may not find them again without a total bag dump!  Bonus: Key fobs can keep track of pacifiers too.
The water resistant outside features even more pockets, perfect for my "Mom" items, drinks, keys, and anything else that I want to keep easily accessible.
And don't overlook the bottom of the bag! You'll find protective metal feet (seen on my bag, pictured below).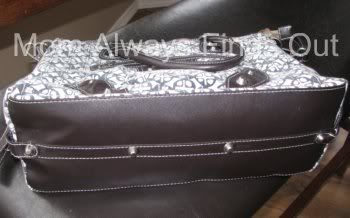 That's not all!  This bag comes with even MORE great features and accessories:
Antique nickel adjustable hardware
Fixed stroller straps
Large padded changing mat
Insulated bottle holder
Zip top wet purse (non-phthalate PVC)
OiOi wipes case (non-phthalate)
Height: 34cm (13.5″), Width: 38cm (15″), Gusset: 16cm (6″)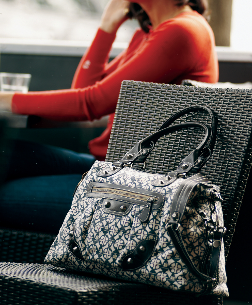 OiOi diaper bags are the must-have bag for the fashionable mommy.  They also make amazing baby shower gifts!

Disclaimer: I received an OiOi Safari Medallion Indigo Slouch Tote Bag for review purposes. All opinions expressed are 100% my own, based on my experiences with the bag.