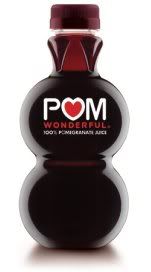 Have you ever tried pomegranate juice? If you haven't, you should! Pomegranates are a fruit highly rich in antioxidants. The POM Wonderful company grows, juices, and bottles their own fruit – guaranteeing you have an authentic, nutritious pomegranate juice experience. No other juice company can say that!
My family recently received some bottles of POM Wonderful 100% Pomegranate Juice to sample. I had high hopes of trying some of the delicious-sounding pomegranate juice recipes found on the POM Wonderful website – until my kids decided to become the world's biggest fans of pomegranate juice and drink every last bottle before I had the chance to cook with it! (They even scooted a dining table chair over to the refrigerator so they could reach where I had put the juice on the top shelf – I am not kidding, they loved this juice.)
I have to agree with my kids. POM Wonderful makes excellent tasting juice. Kind of sweet and kind of tart at the same time. We loved it! Here are some other nice facts about Pom Wonderful 100% pomegranate juice:
• contains no added sugars, preservatives or colors
• is a good source of potassium
• is gluten-free
• is flash pasteurized to retain both flavor and nutrients
• is certified kosher
You can find POM Wonderful Juices in the refrigerated section of the produce department of your local supermarket.
Disclaimer: I was provided samples of POM Wonderful 100% pomegranate juice for review purposes. No other form of compensation was received in exchange for this written review post. All opinions are honest and my own, based on personal experiences with this product.