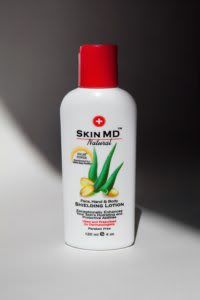 Skin MD Natural Lotion is a
skin care
product I have been using for the past couple of weeks to help heal and moisturize my dry skin. This lotion works differently from other conventional lotions in two ways: First, it helps the inner layers of skin to absorb moisture; second, it forms a shield on the top layer to resist environmental irritants and protect the inner layers' natural moisture. Lab tests have proven Skin MD Natural Lotion to be 6x more effective than other creams.
If you have sensitive skin and/or like to use natural products, Skin MD Natural Lotion is an excellent choice. It is made with natural ingredients and is hypoallergenic, free of fragrances, parabens and colorants.
My own experience with Skin MD Natural Lotion has been a positive one. The formula is very quick to absorb and non-greasy – both are qualities I like to see in a lotion. It only took a few days for me to feel the difference the lotion made on some of my problem areas: my hands (due to frequent hand washing) and my heels (dry and cracked after winter). They actually felt soft again!
Skin MD Natural Lotion is also formulated to be used on your face. I was reluctant to test lotion on my face, since I have sensitive/acne prone skin that usually breaks out when I use lotion on it. I applied the lotion after washing my face every morning and night for a week and it didn't cause ONE break out. I cannot say that for many other lotions and products I have tried in the past. It is nice to find an effective lotion I can safely use on my face.
Would you like to purchase or sample Skin MD Natural Lotion? Visit the Skin MD website to order products and/or find out how you can get samples. *There is a 100% Money Back guarantee on their skin care products.*
Connect with Skin MD on Facebook and Twitter.
Skin MD Natural Lotion is Eco-Friendly (*made using 100% solar power), Vegan, and Cruelty-Free.
Disclaimer: I was provided a sample of Skin MD Natural Lotion for review purposes. No other form of compensation was received in exchange for this written review post. All opinions expressed are honest and my own, based on my personal experience with this product.