Sponsor Spotlight! Ribbz will be a featured giveaway sponsor next week during the Back To School giveaway hop event – THREE lucky winners will receive a Ribbz cover for their iPhone4.
So is it just me, or does it seem like most protective covers for electronic gadgets and devices seem to come in black, black, and more black? I like to find covers that stand out in a crowd, which is one reason I love the selection of trendy, bright colors offered by Ribbz and JustAir.

Ribbz covers protect your iPhone4 from damages due to shocks and drops. Watch a short demo clip on their site that shows you how a Ribbz cover works to absorb the shock to keep your iPhone4 intact. They are easy to install, lightweight, soft and easy to grip.
You can get a different color for every day of the week if you want! Choose from Red, Green, White, Pink, Purple, Yellow, and Black.
BUY ONE (OR MORE!)
Ribbz iPhone4 covers are affordably priced at $29.99 and available at Best Buy, Staples, and online at Ribbz.
Just Air for iPad & more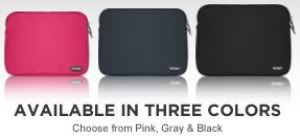 If you are on-the-go with your iPad, tablet, or laptop, you need to protect it from accidental drops and shocks with a case. My Pink
Just Air cover
is great for taking my iPad with me wherever I go. There is a Just Air cover made for the iPad and iPad2 AND they are
available in 4 different sizes
to fit laptops and brands like Sony, HP, Dell and more.
Just Air's outer layer is made with shock-absorbing polyurethane memory foam. The inner layer is designed to be water resistant, nonscratching and is built with a dust free lining.
The case is the perfect fit for my iPad. It isn't bulky or heavy. I like that I can simply slip my device into the case, zip it up, and go. The whole thing even fits right into my bag, which makes it convenient when I am on the go and want to have my iPad handy. These cases would be great for students heading back to school with their iPads and laptops – they could put them into their backpacks, knowing they would be fully protected from any bumps by the Just Air protective cover.
BUY ONE!
Just Air covers are available in 3 colors: Pink, Black and Gray. Affordable pricing starts at $29.95 (iPad size).
Purchase at Best Buy, Staples, and online at Just Air Cases website.
Disclaimer: I was provided a Just Air cover free of charge for review purposes. All opinions expressed are 100% my own.