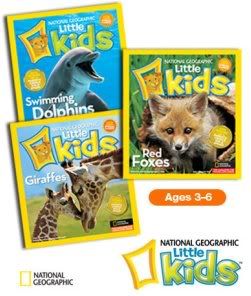 Last week, Mamasource had the great deal on National Geographic Kids magazine — and this week, the featured deal is for National Geographic Little Kids magazine. You can get a one year subscription for only $7! Regular price is $23. I scooped this deal up tonight because my younger kids loved this magazine. (We used to have a subscription that lapsed.) It is totally worth paying $7 to get this magazine.
The photos are our favorite part – we look at the animals over and over again, plus the activities and stories help us to learn about them, too. Each issue comes with bonus Animal Cards that you can take out and carry around (like baseball cards.)
This magazine is geared towards preschoolers ages 3-6 and a one year subscription includes 6 high quality issues. This deal will end on 8/23. You can purchase up to 3 subscriptions.
CLICK HERE TO SEE THE DEAL AND USE CODE: NATGEOLK3 to get the cost down to only $7 for a one year subscription to National Geographic Little Kids!
Disclaimer: This post contains my referral link.