*Just wanted to add a little note at the front to thank Rachel at Rachel's Giveaways for allowing me to help her out with hosting duties for this hop! I know we are both excited to spread the word and welcome everyone to link up and join us every week on the Relax and Make Friends Wednesday Blog Hop!
Welcome to the Relax and Make Friends Wednesday Blog Hop! This is a great way to discover new blogs and increase your followers.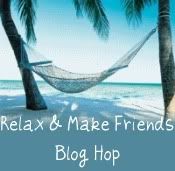 Since it's hump day, our blog hop is all about having fun and there are just a few guidelines to make it easy to participate.
1. Follow your co-hosts, Rachel's Giveaways and Mom Always Finds Out, on Google Friend Connect.
2. Grab the html code so you can display the button and create a post on your blog.
3. Add your blog's link to the linky below by clicking the blue "Add Your Link" button.
4. Check out the other blogs listed. If you follow them, leave a comment so they know you stopped by!
The more you spread the word, the more people can discover your blog, so feel free to re-tweet this using the button at the bottom of the post. You can also post the linky on your blog by copying the code below:
We will follow you back if you leave a comment on our blog hop posts.