I'm happy to announce that Babybond will be a sponsor of one of my giveaways that will begin during the Let Love Nourish event (August 26-30).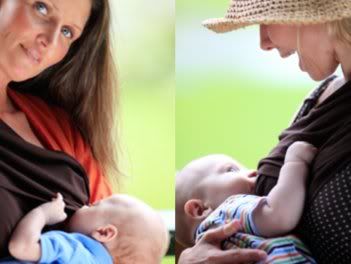 The
Babybond nursing accessory
 is designed to cover up mom, not the baby.  Babybond makes it possible for Mom and baby to maintain eye contact while breastfeeding, while keeping mom modestly covered. Nursing my son is a special bonding time for the both of us, so it is nice not to have to keep his head completely covered up while he eats. It also helps the people around us feel more comfortable about me nursing him in public.
There are three styles of Babybond: Original, Flex, and Couture. The Original and Flex styles are both worn like a sash to function as a nursing top so that Mom can nurse from the top of her shirt. The Couture style has a customizable fit and the ability to be worn in 2 ways so that Mom can nurse from the top or the bottom of her shirt. Each style rolls up (Original & Flex have a self-storing pouch), which makes Babybond easy to take along in a diaper bag without adding lots of bulk.
I had the opportunity to try the Couture Style of Babybond. I chose this one because I liked the versatility of this style. A Couture Babybond can be used to nurse from the top or the bottom of my shirt, depending on which way I choose to wear it. I can also get a custom fit every time, which is nice since my body shape changes so much in the months after I have a baby.
Babybond Couture comes in basic color options like Chocolate (brown), Charcoal (gray), and Night (black), Riviera (turquoise) and Classic (navy), which makes it easy to match with just about any outfit. Babybonds are made from 100% cotton (very soft!) and are machine washable.
It took some practice for me to learn how to use the Babybond Couture. Luckily, the Babybond has a helpful instructional YouTube video (embedded below). I watched it several times and practiced putting on my Babybond until I got the hang of it. I recommend watching this video so you can see how the Babybond Couture works:
Babybonds make great baby shower gifts for expecting moms and are nice accessory for Moms with nursing babies.
SHOP Babybond online and/or use the Store Locator to find a retailer near you.
Disclaimer: I received one or more of the products mentioned above for free using Tomoson.com. Regardless, I only recommend products or services I use personally and believe will be good for my readers.