My family likes to eat out occasionally, but we often have a hard time at restaurants when we need to use a highchair. We also visit family and friends from time to time and find ourselves worrying about where to seat the baby during mealtimes. The solution for us? A Totseat, the portable fabric highchair, because it can make virtually any chair into a highchair.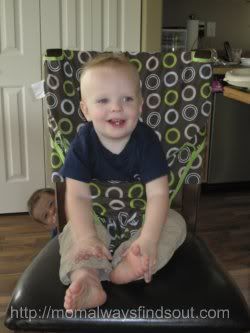 I couldn't wait to try the Totseat with my 19-month-old who wants to sit at the dining table with us, but can't safely sit in our dining chairs. It took me less than a minute to fit the Totseat onto my dining chair and get my toddler safely harnessed into it. Now he can eat like a "big boy" at the table with us!
The Totseat is machine washable and squishes down to fit into a small carrying bag. It can be used with children ages 8-30 months and comes in several different color options.
We love using the Totseat in our home and when our family is on the go and needs a highchair. These are an excellent gift idea and the perfect thing to keep for use at grandma's house.
Purchase a Totseat online at Trendy Kid for $34.99.
Disclaimer: I received a Totseat free of charge in exchange for this written review. All opinions are my own and are based on my personal experiences with the product.