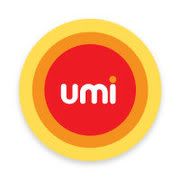 What's not to like about Umi Children's Shoes? This company cares about your little one's feet, and it shows in each pair of quality hand-crafted shoes for babies and little boys and girls.
I'm a stickler when it comes to buying good shoes for my children. It is important to me to purchase from a company that is dedicated to providing a shoe that is especially made to support proper foot development and also uses durable materials to produce a shoe that will comfortably fit my child.
Umi has years of experience designing and producing baby and children's shoes. They use the softest leather to ensure shoes provide comfort, plus they test their shoes for safety and durability.
The Umi company is also Earth-friendly, using only non-toxic drum-dyed leathers and other environmentally friendly components and recycled packaging.
My 18 month old son recently received his first pair of Umi shoes, the Linden style leather sandal in chocolate. Not only were these his first pair of Umi's, they were his first pair of "real" shoes! The hook and loop closure makes for an easy on/off and the flexible rubber sole was exactly what I hoped it would be. (Rigid soles are not good for baby feet.)
Just a note about sizing: Be sure to print out the Umi size chart found online at their website and order the size based on that measurement. Do NOT try to size up, as all Umi shoes are designed with room to grow. I am so glad I resisted the urge to order the next size up, because once we tried on our shoes, I realized they do have plenty of room for his foot to grow.
This classic style of sandal looks so cute on him, if I do say so myself. He was up and running in no time at all in his new Umi shoes. Thank you, Umi, for allowing us to review your wonderful shoes!
CONNECT with Umi Children's Shoes on Facebook and Twitter.
SHOP Umi Shoes – Buy them online or use the convenient Store Locator found at Umi Shoes website.
*Special Offers: Enjoy Free Shipping and Returns on All Orders at Umishoes.com. Currently, you can receive a free Laurie Berkner CD with purchase and promo code LBCD1 at checkout.*
Disclaimer: I received a pair of Umi Children's Shoes free of charge in exchange for this review post. All opinions expressed are my own, based on personal experience with the product.