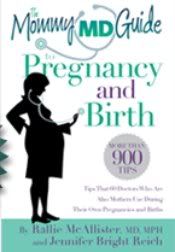 If you or someone you know is planning to have a baby or currently expecting one, this book is wonderful! It is packed with useful advice – "real" advice from 60 doctors who are mothers. I love how the book is divided into one chapter per week of pregnancy plus a few extra chapters of advice for when the baby is born. It makes it so easy to find the information relevant to your stage of pregnancy.
When I received this book for review, I was in my 32nd week, so I skipped straight to Chapter 32. I read: Your baby is pressing more on your internal organs, making breathlessness, heartburn, and urine leakage more frequent. I thought: Okay, kind of yucky to think about – but had to admit yes, yes, and yes to all of the above. This book is right on!
I have gone back and read through the chapters I missed, and know any expecting mother will benefit from reading this book. Not only do you get all the practical information about baby's development and what is going on in your body, you also read tips on subjects like deciding to find out the sex of your baby, product recommendations, when to call your doctor or midwife, and so much more. There are more than 900 tips in this book and they literally cover just about anything and everything you can imagine.
I am currently pregnant with my fourth child and was surprised at the things I learned from the book as well as was reminded of many little things that get forgotten from pregnancy to pregnancy. Reading it was like having a fun, informative chat with friends.
Visit the Mommy MD Guides website to learn more and to purchase The Mommy MD Guide to Pregnancy and Birth.
Enter To Win a copy of the book The Mommy MD Guide to Pregnancy and Birth here at Mom Always Finds Out! Giveaway will remain open until May 10 at 11:59pm PST. US/Canada
Mandatory: Leave a comment letting me know you'd like to win! Please include your Google Friend Connect name that you use to follow my blog.
Bonus Entries:
*Like The Mommy MD Guides on Facebook
*Follow Mommy MD Guides on Twitter
*Like Mom Always Finds Out on Facebook
*Follow Mom Always Finds Out on Twitter
*Tweet and/or Share this giveaway on your Facebook page (1 entry per day each method)
Disclaimer: I received a copy of The Mommy MD Guide to Pregnancy and Birth for review purposes. All opinions expressed are my own, based on my experience with the book. Sponsor is responsible for prize fulfillment.