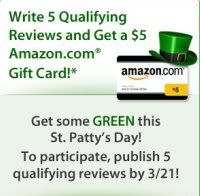 Viewpoints is once again offering an easy way to earn a $5 Amazon Gift Card – simply log in between March 11-21, 2011, and write 5 qualifying product reviews.
Click Here to see all program requirements and/or to sign up and log in to Viewpoints. If you aren't already signed up, it is easy and free to become a Viewpoints member.
Gift cards will be sent within 30 days of program completion. I have participated in this program in the past, and received my gift card.