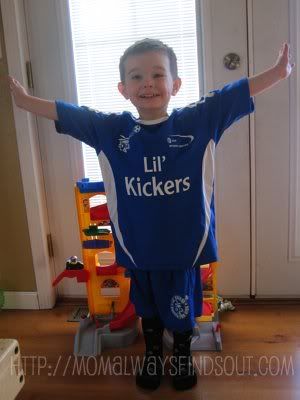 I think it is impossible for me to be completely Wordless on Wednesday – especially when it comes to my kid's photos – they usually involve an explanation.
So here is my 3 year old Luke and his new "pajamas" — he started playing soccer yesterday (first time ever!) and is so proud of his new uniform that he has refused to take it off for bedtime.
I finally convinced him to take a bath after he made me promise him (repeatedly) that I would not take away and wash his uniform and would let him put it back on. And here he is, wearing it again today. I have a feeling I am going to be seeing a lot of Luke in his soccer uniform in the coming weeks. He is so happy to be part of a team, as you can see!