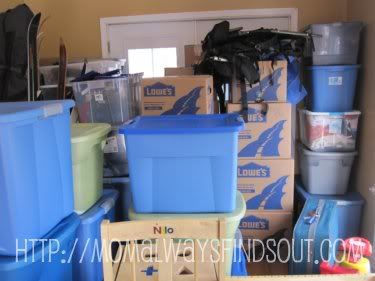 This was what the front room of my house looked like earlier this week. The kids called it "Boxville," while I looked on it as more of "Nightmareville." We finally sold our house a few weeks ago and are in the process of moving to a new house across town. Moving is SUCH a pain. I thought it would be easier to make an in-town move. However, I quickly found out that it is just as hard to pack up and move a short distance as it is to move long distance. Everything has to be packed up just the same way. Luckily, I'm almost 9 months pregnant. (Insert heavy sarcasm here!)
I have felt so useless since I can't lift any heavy boxes and I have barely managed to pack even half of them. My husband can take credit for doing so much of this move all by himself. He didn't even complain. But he probably didn't need to complain very much since I have complained enough for the both of us lately!
We had an awesome group of friends come over a few nights ago and clear out Boxville, where it currently sits in storage, waiting for us to get into our next house. We are hoping to close on the house sometime next week. In the meantime, we're enjoying sleeping on air mattresses, sitting in camp chairs, and wearing the same few pieces of clothing over and over. Actually, it's not too bad. It has its good points — there's not a lot of clutter to clean up since almost all the toys are gone.
I'm very excited to get moved into the next house though — for many reasons, but the most important one being that I will finally have a GARAGE! Believe it or not, we have lived in several places over the past 10 years and never had a house with a garage. Living in Alaska with long, cold winters full of snow, ice, and kids to put in carseats has been what I have considered a personal hardship! Don't worry, I freely admit I am a wimp when it comes to dealing with cold.
I will keep you posted on any house moving developments – right now, we're just playing the waiting game until paperwork goes through and we can officially move in.