Prefense is the first proactive hand sanitizer I have ever heard of and had the opportunity to try. I love the concept of applying a hand sanitizer once per day and having it continue to offer protection from germs for up to 24 hours or 10 hand washings. Can you believe one application lasts all day!? This is a must-have product for anyone, especially parents like me, who use hand sanitizer on their children too.
The Prefense foaming hand sanitizer is completely safe for kids – including being alcohol-free and non-toxic. It proactively offers continuous protections from bacteria and fungi including staph, strep, E. coli, MRSA and many more. Prefense recommends applying once or twice per day. If you wash your hands more than 10 times, simply reapply.
My children and I have been using Prefense for a couple of weeks now in place of our usual hand sanitizing products. We all love foaming hand sanitizers – they are more fun to apply! And I like that we can use Prefense without drying out the skin on our hands. Other brands we have tried eventually cause irritation and burning with frequent use.
This chart compares Prefense to other hand sanitizers – which would YOU rather choose for your family? (I am going to go with Prefense!)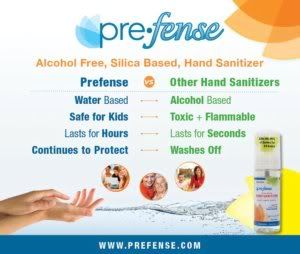 Prefense Ingredients: Amosilq Silica Complex, water, cocamidopropyl betaine, and essential oil fragrance
Purchase Prefense online at Amazon or REI. You can also find a retailer near you by using the store locator found on the Prefense website.
Connect with Prefense on Facebook and Twitter.
Enter here to WIN a full 8 oz. size bottle of Prefense (640 applications)! Giveaway ends May 10 at 11:59pm PST. Open to USA residents. Winner will be chosen by WP Plugin "And The Winner Is" and emailed with 48 hours to claim their prize.
Mandatory Entry: Leave a comment letting me know you'd like to win!
Bonus Entries (see above for Prefense links):
*Like Prefense on Facebook.
*Follow Prefense on Twitter.
*Follow Mom Always Finds Out on Google Friend Connect and leave your GFC name in your comment.
*Like Mom Always Finds Out on Facebook.
*Follow Mom Always Finds Out on Twitter.
*Tweet and/or Share this giveaway on Facebook, leaving the link in your comment (good for one extra entry per day, per method)
Disclaimer: I was provided a sample of Prefense hand sanitizer for review purposes. All opinions expressed are my own, based on my experiences with this product.