I loved the game Clue when I was younger, so I was excited to play the Harry Potter Edition with my kids. We had a great time just setting up the board and looking at all the pictures of Hogwarts locations and people on the game board and cards. Even though my kids are younger than the recommended playing age of 9 years and up, we were all able to play as a team. I had to assist them the entire game, but my boys thought that was just how it was supposed to be. We all had a great time solving the missing student mystery.
I thought this was a neat version of Clue – but be aware it doesn't have that much in common with the original Clue at all! For starters, the game board looks completely different, since it is transformed into the Hogwarts landscape. It is also more complicated with wheels underneath it that spin (and have to be assembled before you play the game the first time). There are different rules, cards, pieces and things to do (such as earn House Points) that are not a part of the original Clue. I think the Harry Potter Edition is more difficult to play than the original Clue. That being said, children ages 9 and up should have the ability to play it on their own and I think they will have a great time playing this game, especially if they are Harry Potter fans.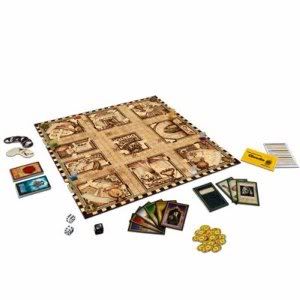 Product Description (from the Hasbro site)
Dark magic has been performed at Hogwarts! A fellow student has vanished from the famous School of Witchcraft and Wizardry and it is up to you to solve the mysterious disappearance. Play as Harry, Ron, Hermione, Ginny, Luna or Neville and try to discover WHO did it, WHAT spell or item they used, and WHERE the student was attacked. Was it Draco Malfoy with a Sleeping Draught in the Owlery? Move around Hogwarts making suggestions- but watch out! Wheels on the board actually move to reveal secret passages, hidden staircases, and even the Dark Mark! Think you've gathered all the facts you need? Go to Dumbledore's office to make your final accusation to win the game!
Purchase Clue: Harry Potter Edition by Hasbro for $24.99 on the Hasbro website.
Disclaimer: I was provided a free copy of the Clue: Harry Potter Edition by Hasbro in exchange for this review. All opinions expressed are 100% my own.