The title of this giveaway might have you asking a couple of questions right off the bat, so I decided to go ahead and answer them.
What is a blissmobox?  It's a box filled with all sorts of organic and/or eco-friendly surprise goodies that gets delivered to your door once a month!  Each month's box has a different theme – so you'll get all sorts of exciting types of products based on that theme.
Where do they come from and why do I need them? 
The blissmobox is brought to you by Blissmo, the daily deal website for savings on certified organic and eco-friendly items – discounts can be up to 70% off!  Blissmobox.com sends a monthly blissmobox to help people discover new and wonderful organic and eco-friendly products by having them delivered right to their doors.
Sounds like a fun way to get to sample new organic and eco-friendly products, right?  
Sign up for a blissmobox subscription 
Regular price is $19/month + $3 shipping
People who signed up to receive the June (food & beverage themed) blissmobox received: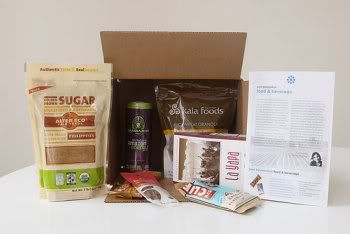 Kaia Foods- Coca Bliss
Kaia Foods- Fruit Leathers
Clif Bars- Coconut Chocolate chip energy bar
Clif MoJo- Peanut butter pretzel trail mix bar
La Yapa- Quinoa
Alter Eco- Unrefined Cane Sugar
Numi Tea Roobios – 18 pack
Sambazon- drink bottle
WIN a blissmobox!
blissmobox.com would like to give away the June box shown above to a lucky winner here at Mom Always Finds Out.  Giveaway is open to USA residents ages 18 and up; it will end at 11:59pm EST on August 13.
To enter, please fill out the super duper easy and fast Rafflecopter entry form below:
Disclaimer: I will receive a June blissmobox in exchange for writing this giveaway post.  All opinions expressed are 100% my own. Sponsor is responsible for prize fulfillment.