Even though I'm not a 100% Green products-only-at-my-house type of mom, I thought it would be fun to put together a list of ideas for an Eco-Friendly Easter Basket. Here are some of my top picks for a Green Easter Basket to help those of us who want to add a little Green to our children's baskets this year.
I'm posting this a few weeks ahead of time since some of these items can be found more easily online than in stores – and I want you to have time to order for Easter!
All products listed below come from environmentally-conscious companies. And just so you know, I have also included some budget friendly options.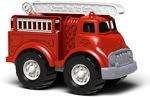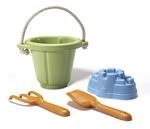 1.) Green Toys. This company uses 100% recycled plastic milk jugs to make all their toys! We recently received and love the Fire Truck (coming up for review on my blog soon). Check out other items including the Tea Set, Sand Play Set and a Stacker for babies.
Click Here For Store Locator
.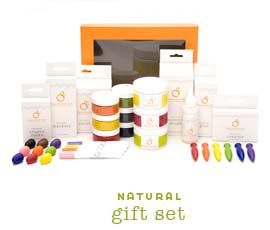 2.) Clementine Art Supplies. Your budding artist will enjoy using all-natural art supplies! Markers, crayons, crayon rocks, dough, paint and glue. Click Here for a list of retailers.

3.)
NaturalCandyStore.com
. An Easter basket would be incomplete without some yummy candy. Check out their huge selection of Organic, Vegan, and Allergy-Friendly Easter goodies!




4.) Audobon Plush birds by Wild Republic. I chose these because I love Wild Republic's goal of inspiring children to love nature.
Amazon.com
has a huge range of these plush birds that even make the realistic sounding bird sounds. My kids love these!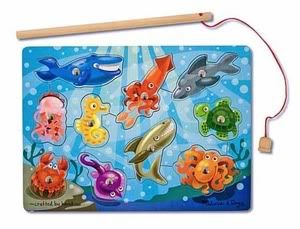 5.)
Melissa & Doug
items. Here's a great choice: Fishing Magnetic Puzzle. It's a puzzle and a game all in one! I don't think you can go wrong with any Melissa & Doug product. Even though Melissa & Doug doesn't necessarily market its toys as eco-friendly, most all of them are! Plus, these high quality toys are reasonably priced and fairly easy to find in stores and online.


6.) Barefoot Books. Younger children will enjoy the colorful peek-a-boo book, "Who's in My Garden?" along with the cute bunny rabbit finger puppet. A nice Easter/Spring pick for older children is Kid's Garden (activity cards), which includes 40 fun activities and games for budding green thumbs. (Watch for my upcoming Barefoot Books Earth Day giveaway in April!) Available online.
Here's the link to my ambassador, Erin.
Her blog is called
The Story Mama
, and she will send new followers a 10% off coupon code.
7.) Ecotorch Animal Flashlight. These are the cutest kid-friendly, environmentally-friendly windup flashlights! Best part: No batteries required, ever. I have found them at multiple online retailers,
here is one link.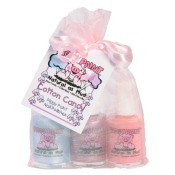 8.)
Piggy Paint
– All Natural Nail Polish (ages 2 and up). I don't have any girls of my own to paint their fingernails, but how great is this? A kid-friendly nail polish that doesn't contain all the nasty chemicals! You can buy them separately or in gift packs as shown ("Cotton Candy Gift Set").
9.) Bubbles, Bubbles, Bubbles! The best part is: You get to make these yourself and it is so easy (and cheap)! Never buy bubble solution again. Here's the link to a couple of recipes I have collected and posted on my blog.



10.) Easter Shaped Crayons. You and you child can "recycle" your crayons by melting them into new ones – it makes for a fun Easter craft! (Read my tutorial HERE for directions.)Wilton makes silicone molds with Easter shapes like bunnies, baskets, and eggs. Besides melting crayons, you can use these to make Easter shaped goodies like cakes, candies, jello, and more. The molds can be found at local retailers (like Joann's) for about $10 each, but I've
linked here to Amazon
so you can read more details.
Disclaimer: I was not financially compensated for writing this post. I did receive a Green Toys Fire Truck in exchange for writing a separate review post, but it no way influenced my inclusion of Green Toys on this list. All items on the list are things I am considering for my own children and are a reflection of my own opinions.