This is a Sponsored post written by me on behalf of Vectra flea & tick control for SocialSpark. All opinions are 100% mine.
This is my dog, "Bear". It's my job to take care of him. As a dog parent, I only want what is best for him and look for ways to keep him healthy. Vectra 3D is a long-lasting flea and tick control for dogs. For small dogs and puppies, there is Vectra for small dogs and puppies.
Fleas and ticks are a potential problem no matter where you live. Just one bite from a parasite can spread disease. That's where Vectra 3D can help.
Vectra 3D Benefits For Your Dog:
Fast-acting. Vectra kills parasites on contact. It also can reduce flea feeding within 5 minutes and kill fleas dead in 6 hours.
Broad Spectrum Protection. Vectra repels, fleas, ticks, mosquitoes, biting and sand flies, lice and mites (excluding mange mites). It kills adult fleas and prevents the development of all immature stages of fleas (eggs, pupae, larvae.)
Longlasting. One dose protects your dog for one month. Vectra remains effective even after swimming and baths.
Convenient. Vectra is easy to apply and can be used on puppies as young as 7 weeks old.
Special Offer From Vectra!
Get a free dose of Vectra flea & tick control, available at your vet's office.
Like Vectra on Facebook and Follow @Vectra on Twitter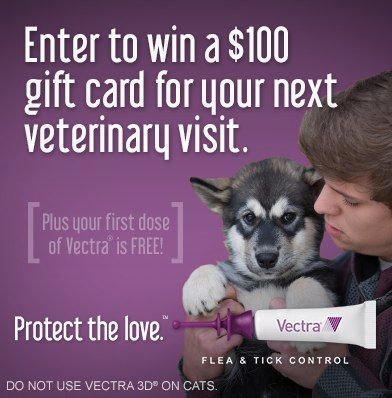 Enter Vectra's Protect the Love Sweepstakes!
Head over to Vectra's Facebook page and enter to win the Protect the Love Sweepstakes. Every week, one winner will receive a $100 Gift Card to use at their next veterinary visit. Every entrant will receive a FREE dose of Vectra flea and tick control. Simply enter the sweepstakes and fill out the form at FirstDoseFree.com. Sweepstakes ends June 30, 2013
How do you protect your dog from fleas and ticks? Will your dog try a FREE dose of Vectra this year? Please share your thoughts in the comments section below.