Hi everyone!
Just a reminder that if you want any last minute entries (including daily tweets!) that Spa For Ma's $400 prize package, the Back To School hop prize package & a couple other giveaways end tomorrow 8/31.
Ending today, 8/30, is the Let Love Nourish event Babybond giveaway.
(Mamas:  The $40 Milk gift certificate, Utterly Yours, and Undercover Mama giveaways will remain open until 9/18).
Here are some helpful giveaway links:
As always, please check the right sidebar of my blog for all the Current Giveaways.
*4 Giveaways for Nursing Mamas: Babybond, Milk Nursingwear $40GC, Utterly Yours, Undercover Mamas
*Back To School Giveaway Hop Prize Packages, 8/31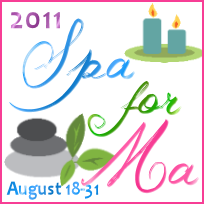 *Spa For Ma Prize Package ARV $400, open 8/18-31
*Picky Sticky Baby Month Onesie Stickers, 8/31
*Tellurian Baby Natural Products, 8/31
*Saline Soothers (Adult Boogie Wipes), 8/31