Guess what, everyone? My new baby is here and I'm ready to let you know about the great nursing products I find that will help make breastfeeding a great experience for both mom and baby. First on my list is the Glamourmom Nursing Bra Long Top – read my review and then buy at least one for yourself. You will LOVE it! This is definitely an essential to any nursing mom's wardrobe.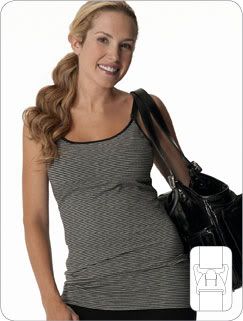 About Glamourmom:
The Glamourmom Nursing Bra Tank came along in the year 2000, when a mom who was unable to find a nursing top that provided full support, easy access to her breasts, and discretion for her postpartum tummy designed something unique: a tank top with a full support nursing bra. Since that time, Glamourmom products have expanded to provide active moms a fashionable line of pregnancy and nursing products.
My first experience with Glamourmom products actually came along this past week when I was finally able to try out their Nursing Bra Long Top. It has been love at first sight for me with this top. I packed it into my hospital bag so that I would have a nursing bra with me for after the baby was born. Here is a list of what I love about this top so far:
1. This top is so soft and comfortable, plus provides the breast support I need. Made from 92% cotton and 8% Elastane, it has the perfect amount of stretch to be supportive without becoming uncomfortable after wearing it for a length of time.
2. Easy, one handed nursing bra hook access. You won't have any trouble unhooking the bra with one hand and holding baby with the other hand. (Multitasking at its best!)
3. Cute colors! The Nursing Bra Tank can be worn alone or under another top – and comes in a variety of fun color options. The one I currently own is Black/Grey stripe. It matches just about everything I wear.
4. Post-partum tummy coverage. This top is a nice long length and there is no chance your tummy will peek out from under. When it says "Long Top," it truly is. One of my pet peeves is when a shirt claims to be longer length and doesn't live up to those claims. The Glamourmom Nursing Bra Long Top really is the perfect long length – it goes to the mid thigh – very functional and fashionable.
This particular Glamourmom top retails for $44, which is a great price for an essential wardrobe item that you will love and want to wear every day while you are nursing. You will be making a great investment in your own comfort when you wear Glamourmom. I would like to thank Glamourmom for allowing me the opportunity to try this top, I love it and highly recommend it to nursing moms everywhere.
Learn more about Glamourmom products & make purchases at the Glamourmom website. Connect with Glamourmom on Facebook and Twitter.
Disclaimer: I received a Glamourmom Nursing Bra Long Top for review purposes. All opinions expressed in this written review are honest and my own, based on personal experiences with this product.