Are you looking for some Happy Halloween books for kids? Here is a list of a few of our favorite Not-So-Spooky Halloween books for babies, toddlers and children. Click on the images for purchase information or head to your local library to check these out.
Babies and Toddlers
Five Little Pumpkins (Harper Growing Tree)
Five little pumpkins sitting on a gate.
The first one said, "Oh, my it's getting late!"
This book is a fun, illustrated version of the popular children's fingerplay rhyme.  Bonus: It teaches counting skills!
Where Is Baby's Pumpkin?

(Karen Katz)
You really can't go wrong with any Karen Katz baby book! This lift-the-flap book is full of illustrations that are sure to keep your child's attention. This is one my toddler wants to read over and over.
Snappy Little Halloween
My children love all of the "Snappy Little" series and the Halloween version is no exception. Each colorful page contains rhyming and repetition, plus it's a pop-up book! All images are kid-friendly – nothing scary about this Halloween favorite.
Ages 4 and up
Goodnight Goon: A Petrifying Parody
Fans of Goodnight Moon (Margaret Wise-Brown) will enjoy Michael Rex's ghoulish take on the original bedtime classic. The rhythm of the rhyme is very similar to Goodnight Moon
,but the words take on a spooky twist in this version that will definitely appeal to your monster lovers! Older kids will enjoy the spooky and silly illustrations. And the best part is, it's not too scary for a bedtime book.
Runaway Mummy: A Petrifying Parody
This is our second favorite Michael Rex parody (of Margaret Wise's classic The Runaway Bunny). It's not quite as good as Goodnight Goon, but it is still a favorite Halloween book at our house. The pictures are colorful and not too scary for younger children. The little mummy in the book says cute things.  Children will like the silliness.
Can You See What I See?: On a Scary Scary Night: Picture Puzzles to Search and Solve
This is a hardcover collectible book by Walter Wick (co-creator of I Spy) and one that my kids spend hours poring over as they hunt for the spooky images. There are lots of different items to find, and though it is a challenge, it's not impossible for my kids to eventually find them all. This is the perfect book for road trips.  (Ages 6-8)
The Hallo-wiener
My children love dogs and love this hilarious story about this wiener dog whose mom dresses him up in his worst nightmare of a Halloween costume. The books is full of funny puns (the dog's name is Oscar) and the pictures are enjoyable. This book is a favorite for kids of all ages.  Even adults (well, if you are like me) will laugh out loud.
Room on the Broom
This is a very fun book for me to read out loud to my children. I love books that rhyme, and this one is a Halloween must have that children as young as 2 can enjoy. Gorgeous illustrations on every page, too! This is not just an entertaining read, but it also teaches lessons on friendship and helping others.
Halloween Books Tip:
I store our Halloween books with my other seasonal items and get them out once a year. This helps keeps the books feeling "fresh" for my children (as opposed to them just being another book on the shelf all year). I also copy what most libraries do and pull out the books I want to feature and set them upright on the shelves. This trick never fails to make the books stand out and my children immediately pick those first when it's time to read. I rotate the books throughout October so we get to them all.
What are your favorite Halloween children's books? Do your children have a favorite Halloween book? Please share them with us in the comments.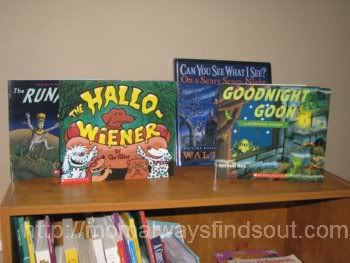 Disclaimer: This blog post may contain affiliate links.