I'm finding all sorts of fun ways to use our Toadily Handmade Beeswax Make Your Own Candle Kit. Today, I want to tell you how to make a Halloween Ghost Candle using Eco-Friendly beeswax.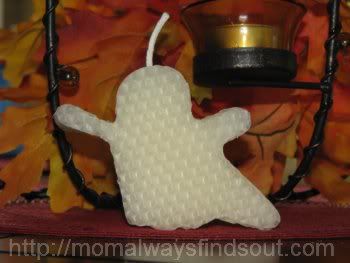 What You'll Need: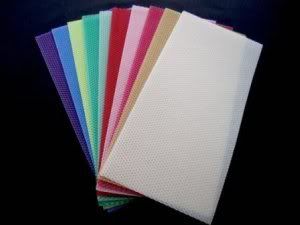 One White Sheet of Beeswax (shown above, approx. 16″ x 8″)
Wick (several inches)
Metal Cookie Cutter (ghost-shaped) *Metal cookie cutters work best to cut through the beeswax
Cutting Board
Directions:
Use the metal cookie cutter to press down on the beeswax and cut out 12 ghost shapes.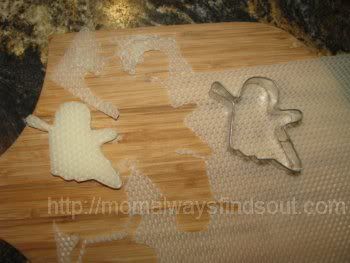 Carefully line up half of the ghost shape cut outs (I used 6 of my 12) one at a time and stack them directly on top of each other, gently pressing each one into the one below it so they will stick together.
Center the wick on your candle cut outs.  Use scissors to cut enough candle wick length to extend about an inch above the candle's top.  Be sure to leave enough length at the bottom.  Press down gently on the wick so that it sinks a little bit into the beeswax.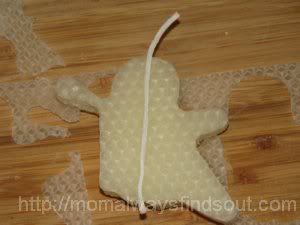 Continue to line up and stack 6 more of the ghost shape cut outs directly on top each other, gently pressing each one into the next one so they will stay together.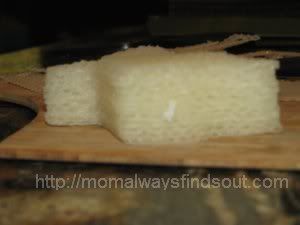 And there you have it, your Halloween Ghost Candle! These are cute to set on your windowsills, as a table centerpiece, party decorations and more.
NOTE: This craft would also work with any other shape of metal cookie cutters.
Disclaimer: I received samples from Toadily Handmade for review purposes. All opinions expressed are 100% my own.