Mother's Day will be here soon, it is time to find the perfect gift for the special women in your life. I'd like to introduce you to one of my "I Love Mommy" prize sponsors: stevenjameskeathley. Steven is a talented artist from Southern California. You can find his shop called 'stevenjameskeathley' on Etsy, along with Steven's items including: handcrafted blank writing journals, notebooks, ecofriendly bamboo jewelry, original paintings, art prints, and posters. His items are very reasonably priced and make excellent gifts. **Update: Use Code MOMALWAYS15 in the Etsy shop and save 15% off your order!
Have a look at some of Steven's gorgeous original artwork. His journals have images like these printed on the front as cover art. What wonderful inspiration for journal writing!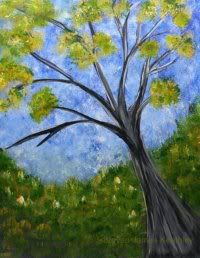 I was fortunate enough to choose any journal I wanted from the stevenjameskeathley selection. "April in Monterey" was one of my immediate favorites (pictured below). It is the perfect size for carrying around in my purse for when I have a moment to jot something down (like those cute things my kids say, or something I want to do before I forget, lists, etc.) or for when I find myself with a longer moment to myself when I can really think about what I want to write about in my journal. The journals are also Eco-friendly (see more details below)!
Here are the specifics taken from the Etsy listing:
The front cover image is a bright and colorful abstract landscape. This image was printed from my original painting, "April in Monterey", which is acrylic on canvas.
• Handcrafted.
• Measures 5 1/2″ by 4 1/4″ (14 cm by 10.8 cm).
• The front cover is printed on professional white cardstock made from ecofriendly recycled paper.
• Inside, 50 sheets (100 pages) of white, unlined paper.
• The back cover is made of chipboard, a environmentally-friendly, biodegradable product.
• Bound with a sturdy double coil wire, a convenient feature which causes the inside pages to lie flat when you open the book.
Steven will be offering one lucky winner here at Mom Always Finds Out their choice of journal from his Etsy shop, including free name customization, during the "I Love Mommy" event from May 5-8.
You can see more photos of his work at his main website and on his blog.