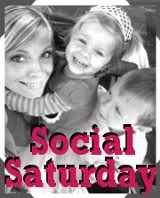 Welcome to the 2nd Edition of the Social Saturday hop, started by The Amateur Mommy! Feel free to add any of your social network sites (Facebook, Twitter, blog, Networked Blogs, etc.) to gain followers and meet new friends!
Thank you so much to The Amateur Mommy for selecting me as this week's co-host! If you would like to be co-host, leave a comment in the comment section on her blog and she will randomly select a co-host each week.
The rules are simple:
1) Follow Host The Amateur Mommy (GFC, Facebook and/or Twitter. New followers leave a comment to let her know and she will gladly follow you back.)
2.) Follow the co-host (That's ME at Mom Always Finds Out) on GFC (right sidebar), Facebook, Twitter, and/or Networked Blogs. (Leave a comment if you are a new follower and I will follow back.)
3.)Please try to follow at least one person
**Not mandatory but it would help spread the word if you included the blog hop button found on The Amateur Mommy – I'm trying to figure out how to get it on here but currently, it's not.
**Also not mandatory but helpful: Tweet and/or Share the blog hop on Facebook and help spread the word to get new followers.