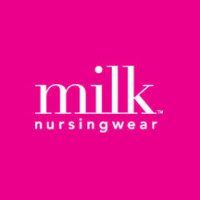 Nursing moms face a lot of challenges when it comes to getting dressed every day.  From bras to shirts and dresses to pajamas, everything we wear has got to be something that can accommodate breastfeeding our hungry babies.  Plus, we want to be comfortable and look cute all at the same time.
Milk Nursingwear is THE place for nursing moms to shop for clothing.  This nursing wear store offers stylish nursing items at great prices.  I recently had the chance to try the Milk Nursingwear Everyday Dress in black (pictured below on the left in teal; it also comes in sunshine orange).
The Everyday Dress is appropriately named — it is a comfortable dress you will want to wear every day!  It is made of soft material and can be adjusted to fit as tightly or loosely as you want.  I like that it is a below the knee length.  This is a really versatile option that can be dressed up or down.
I recently wore this dress with a pair of footless tights to a casual outdoor BBQ and got several compliments.  Nursing my son was really easy.  The front of the dress pushes aside so that you can find the opening for baby.  I was able to discreetly nurse the baby in public while wearing this dress.  I definitely think the Everyday Dress is a staple item for a nursing mama to wear.
Milk Nursingwear offers a huge selection of everything a nursing mother's wardrobe needs. In addition to nursing dresses, you will also eco-friendly clothing options, including organic cotton gowns like the nursing nightgown (pictured above right in raspberry).
 ENTER TO WIN a $40 Gift Certificate to Milk Nursingwear in my current giveaway!  
Hurry, giveaway ends 9/18!
Disclaimer: I received an Everyday Dress free of charge for review purposes.  All opinions expressed are 100% my own and based on personal experience.