Everyone knows Starbucks is famous for their coffee, but did you know there is Starbucks Ice Cream? Yes! You can now find the ice cream version of your favorite Starbucks beverages – which include several coffee flavors and 3 "Coffee Free" flavors.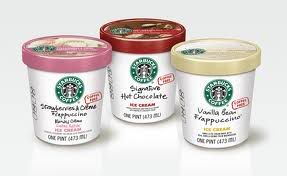 Since my favorite Starbucks drink is their Signature Hot Chocolate, I chose the Signature Hot Chocolate ice cream. This is one of the "Coffee Free" flavors, which also include Vanilla Bean Frappuccino and Strawberries & Cream Frappuccino. My kids wanted me to make the Vanilla Bean Parfait recipe we found on the Starbucks Ice Cream website, so we also got the Vanilla Bean Frappuccino ice cream.
Both of the ice creams that we tried were rich and smooth. Although the Signature Hot Chocolate ice cream is made with both vanilla and chocolate ice cream swirled with thick syrupy fudge – the chocolate flavor dominates. This ice cream is definitely made for chocolate lovers. Vanilla Bean Frappuccino ice cream is creamy and made with real vanilla beans.
You can find recipes for each of the Starbucks ice cream flavors on their website. Here is the one we tried: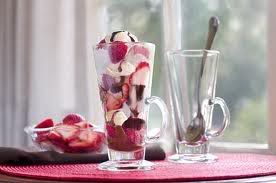 Vanilla Bean Parfaits
 Ingredients:
1 cup cubed store bought pound cake
1 cup sliced strawberries
2 cups Starbucks Vanilla Bean Frappuccino Ice Cream
¼ cup chocolate syrup
¼ cup sweetened whipped cream
Instructions:
Layer ingredients in parfait glass or large wine goblet, ending with whipped cream.
Disclaimer: I wrote this review while participating in a campaign by Mom Central Consulting on behalf of Starbucks and received coupons and a promotional item to thank me for taking the time to participate.