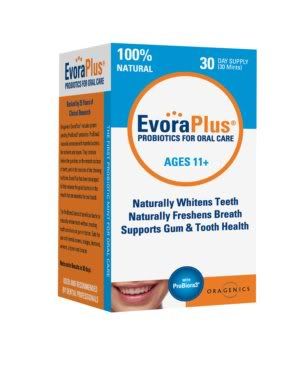 I am a newcomer to the use of Pro-Biotics as a natural approach to oral care and have to admit that before I tried
EvoraPlus from Oragenics
, I was a bit skeptical. I wondered if I would be able to tell a difference in the whiteness of my teeth and overall health of my mouth. I gave EvoraPlus a chance because I wanted to see if it could naturally boost my tooth and gum health as well as freshen my breath and gently whiten my teeth.
EvoraPlus Whitens Teeth Naturally.
Teeth whitening kits I have tried in the past contained harsh ingredients that wreaked havoc on my teeth and even caused them to become extremely sensitive. I used EvoraPlus every day for 30 days and never once had a problem with tooth sensitivity – and I actually noticed my teeth appeared whiter within just a couple of weeks. They weren't glowing electric white, but they were a natural shade or two brighter than they had been.
EvoraPlus Freshens Breath.
After using the 30 day supply of EvoraPlus, I can say that it also works to keep my mouth feeling fresher for a longer period of time between brushings.
EvoraPlus Promotes Healthy Teeth and Gums.
The probiotics found in Evoraplus work to add the good kinds of bacteria my mouth needs to stay healthy, while it crowds out the bad bacteria that can cause dental problems.
You can visit the EvoraPlus site to learn more about how EvoraPlus ProBiotics works to promote your healthy mouth by keeping harmful bacteria in check.
I found that EvoraPlus is really simple to use. Every day after brushing my teeth, I dissolved one pill in my mouth. The pill didn't really taste like much of anything to me, I barely noticed a slight mint flavor.
EvoraPlus is safe to use for all ages.  It is an economical way to replace your need for traditional mouthwashes, breath fresheners or tooth whiteners. I am very happy I gave EvoraPlus a chance because I did get noticeable and positive results.
Special Limited Time Offer!
Oragenics is offering a coupon code for $5 off for EvoraPlus to be used at check-out when ordering from their site. The code is EPLUS811 and is good through August 31, 2011.
Disclaimer: I received free samples of EvoraPlus for review purposes. All opinions expressed are 100% my own, based on personal experiences with the product.