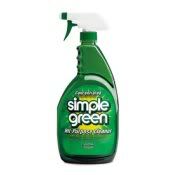 Are you looking to "green" your household cleaning routine? Original Simple Green is not only green in color, it is non-toxic and biodegradable, making it more Eco-friendly and safer than other conventional cleaners.
Believe it or not, this cleaner alone can replace almost EVERY bottle of cleaner you currently use. It's true: Simple Green can be used on any water-safe surface, so try it on floors, walls, doors and handles, light switches, counter tops, appliances, stoves, greasy pots and pans, sinks, tubs, toilets, vanities – to name a few! Simple Green is also great for cleaning outdoor items like patio furniture, barbeque grills, and in the garage.
I received a 32 oz. bottle of the Original Concentrated Simple Green All-Purpose Cleaner and a dilution spray bottle for my review. Using the handy dilution chart found right on the bottle, I was able to mix a Simple Green formula to the Medium "Everyday Strength" for cleaning. It only took half a cup of the Simple Green and the rest of the bottle was water! One bottle of Concentrated Simple Green is going to make a lot of bottles of cleaner – making this cleaner the most economical one I have ever found!
If your cleaning job needs something stronger, you can mix a "Heavy" Simple Green solution, which is great for stubborn soils and heavy grease. Likewise, you can mix a "Light" Simple Green solution for non-greasy, lightly soiled surfaces.
How did I like this product? Very much! I like the convenience of being able to carry one bottle around the house to do all of my cleaning from the kitchen to the bathroom to the wiping of the fingerprints off the walls and lightswitches. It also worked very well at cleaning my greasy stovetop. And as I said before, I have only used half a cup of Simple Green to make a full bottle of cleaner – I will definitely save money since I won't have to buy another bottle for a LONG time.
Please visit the Simple Green website to learn more about the many uses for Simple Green products. There are excellent starter kits you can buy, including the Simple Green Whole House Cleaning Kit – everything you need to clean your house for under $10! You can also purchase Simple Green at most major retailers including Wal-Mart, Home Depot, Lowes, and more – find a complete list of retailers on their website.
Disclaimer: I received a bottle of Simple Green cleaner for review purposes. All opinions expressed in my review are based on my own experiences with using this product. Sponsor is responsible for prize fulfillment.