My kids love using Boogie Wipes when they have a runny nose, and I have to admit, I love using their Boogie Wipes too. I'm sure I am not the only adult that likes using the saline wipes over traditional facial tissues…admit it, you do it, too!
The makers of Boogie Wipes have recently introduced a saline nose wipe for adults, called Saline Soothers. They are moisturized with saline, Aloe and Vitamin E to help prevent your nose from becoming dry and chapped. Saline Soothers come in three refreshing scents: Cool Menthol, Fragrance Free, and Light Lavender.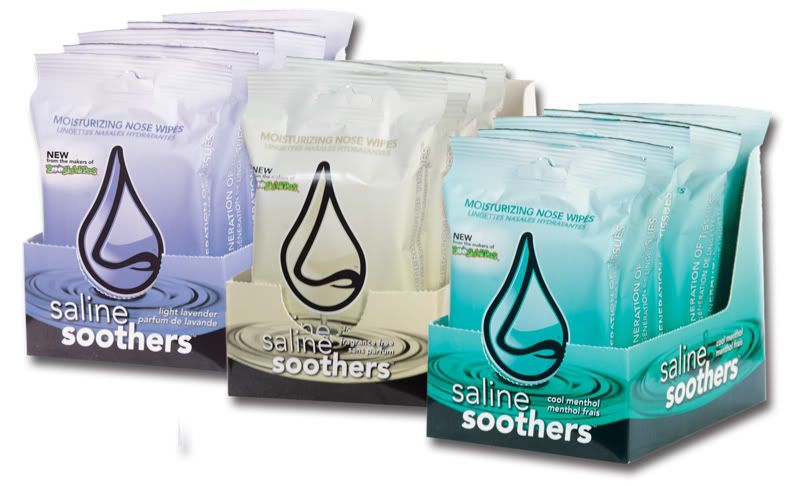 I was excited to try the new Saline Soothers because I am such a big fan of Boogie Wipes. I received a 15-count packet size in the Cool Menthol scent. This size is perfect for me to carry around in my purse. As I expected, these wipes are so nice to use because they keep your nasal tissues moist and your nose clean. They are so much better than a dry tissue!
The Cool Menthol scent is pretty strong. If I was sick with a stuffy nose, it would probably be nice to breathe in the soothing menthol. But for day-to-day use, the Cool Menthol fragrance was a little much for me. I would pick the Fragrance Free or the Light Lavender scents for everyday use.
Click here to watch a short YouTube video about Saline Soothers and come back for a Saline Soothers Giveaway!
Purchase Saline Soothers at major retailers (Walgreens, Walmart) nationwide & online.
The Saline Soothers Giveaway is open to USA residents and will end at 11:59pm EST on August 31. One lucky winner will receive:
2 Full Size Packs of Saline Soothers
2 Coupons
3 Fragrance Free Sachets
2 Mint Sachets
To enter this giveaway, please use this Rafflecopter entry form:


Disclaimer: I received a free sample of Saline Soothers for review purposes only. All opinions expressed are my own, based on personal experiences with the product. Sponsor is responsible for prize fulfillment.