Wool dryer balls soften your laundry without chemicals and help reduce drying time by up to half. The natural wool felted dryer balls from The Willow Store are handmade in the US and safe for all types of laundry, including cloth diapers. They are available in natural cream or hand-dyed – the colors are safe for any color of laundry and will not bleed onto your clothing. Although they may become naturally "pilly" with use, the lint does not come off onto your clothes.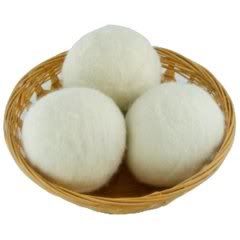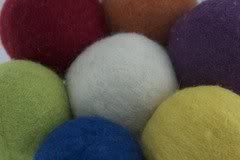 You may wonder how wool dryer balls can cut your drying time so dramatically. The way they do this is by bouncing around the dryer, helping to circulate the air between your clothes, which causes them to dry faster. The friction created by the wool rubbing against your clothing softens them and also helps to reduce static.
What I love about wool dryer balls: They soften laundry naturally, without chemicals. Dryer sheets contain many chemicals that deposit residues onto your clothing. These chemicals also build up on your towels, causing them to become less absorbent. Plus, they really do decrease the amount of time clothes need to spend drying. I noticed they cut about 10-15 minutes off of my dryer's usual drying time per load. That saves lots of energy (and $$$) over time!
How To Use Dryer Balls: Simply toss 2-3 balls into the dryer with your wet laundry. You don't need to remove them from the dryer, ever! Simply reuse them. Wool dryer balls will last for several years.
The Willow Store's dryer balls are approximately 9" in circumference (about the size of a tennis ball).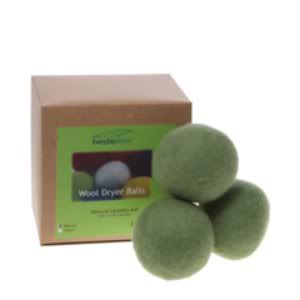 PURCHASE THE WILLOW STORE DRYER BALLS for $6.95 each or $19.95 for a set of 3.
WIN A Set of 3 Wool Dryer Balls! The Willow Store would like to give away a set of 3 dryer balls to one lucky reader here at Mom Always Finds Out. Giveaway is open to US residents ages 18 and up, and will end on June 26, 2011 at 11:59pm PST. Winner will be randomly selected by WP plugin "And The Winner Is" and e-mailed with 48 hours to claim their prize.
MANDATORY ENTRY: Visit The Willow Store and leave a comment below telling me something you learned or another product you would like to try.
BONUS ENTRIES (Leave one comment per item completed):
*Like The Willow Store on Facebook.
*Follow The Willow Store on Twitter.
*Follow The Willow Store Blog on Google Friend Connect.
*Like Mom Always Finds Out on Facebook.
*Follow Mom Always Finds Out on Google Friend Connect (right sidebar).
*Like Mom Always Finds Out on Twitter.
*Tweet and/or Facebook share this giveaway link (one entry per method, per day)
*Add this giveaway to any family-friendly giveaway linky & leave a comment letting me know where to find it. (unlimited entries!)
Disclaimer: I was provided a set of 3 wool dryer balls for review purposes. No other compensation was received. All opinions expressed are 100% mine and are based on my personal experience with the product(s). Sponsor is responsible for prize fulfillment.