After a summer of sun and fun, it's time to get the house ready for fall. One of our family's projects is to clean the wood on the deck. Dirt from our shoes and even muddy dog paw prints decorate the wooden deck at our entry way. I would like to keep our front porch looking clean and presentable, so I gave Thompson's Water Seal Oxy Foaming Action Exterior Multi-Surface Cleaner a try.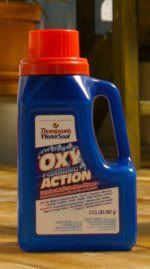 The Oxy Foaming Action Exterior Multi-Surface Cleaner is an eco-friendly alternative to chlorine-based cleaners. It has a biodegradable, oxygen-powered formula that works to remove stains from dirt, mildew, algae and fungus on a range of outdoor surfaces, including wood and composite decks, fences, concrete, masonry, brick, stucco, outdoor furniture, roofs, siding and some fabrics such as awnings and vinyl plastics.
The cleaner itself is a concentrated powder that mixes with water to form the cleaner. Each bottle holds enough powder to make up to 5 gallons of cleaner, and each gallon will cover approximately 200 square feet.
This product was very simple to use. I followed the easy directions to mix and apply the cleaner, then waited while the oxygen foaming action went to work for a few minutes. I used a broom handled scrub brush to scrub over the deck, then rinsed with water. After the deck dried, I could see a big difference. All the caked on dirt and footprints were gone. The wood was nice and clean.
Here are some Before and After photos. Notice no more dirty dog paw prints!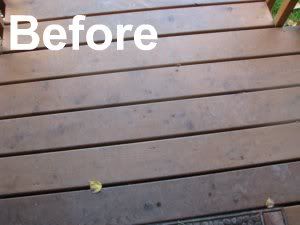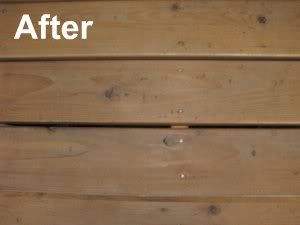 Visit Thompson's Water Seal website for more information and to find a retailer near you.
Disclaimer: I received free samples of Thompson's Water Seal Oxy Foaming Action Exterior Multi-Surface Cleaner for review purposes. All opinions expressed are 100% my own, based on personal experiences with the product.