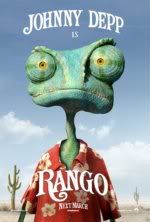 We went to see Rango on Saturday, mainly to make my 3-year-old happy, since he has been asking to see Rango ever since seeing the quirky-looking chameleon on movie trailers. My husband and I both had the same initial thought: This isn't really a movie that young children will enjoy. Let me just say, we were right.
The movie started out keeping the boys' (ages 3 and 7) attention, but before it was even halfway over, they had lost interest. The humor (crude at times) was aimed at adults, and I didn't like that there was even some mild swear words used as well as scenes showing animals smoking. My kids did not "get" most of the movie's humor, nor did they understand the movie when it went off on sophisticated philosophical tangents. Not the type of movie I would recommend for children, at all.
Here is a very simplified rundown of the plot, I will try not to add any spoilers. A lonely pet lizard's life is turned upside down when he falls out of the back of a vehicle and into the Mojave desert. He soon meets another lizard (a girl) named Beans, who takes him to the nearest town called "Dirt." Dirt is a classic Western town with some problems: They are almost out of water and they have an enemy called Jake the Snake. Through a series of events, Rango is accepted as the town's new sheriff and undergoes a heroic journey to save the town and solve the water problem.
Surprisingly, the main character, Rango, wasn't even all that loveable. And many of the other characters are actually kind of ugly and scary-looking. Nothing that will attract my kids to want to own Rango-themed toys, that is for sure. (Thank goodness!) The best thing I can say about the movie is that the animation is excellent and you really do feel like you have visited the desert after you watch it.
My family stayed for the entire movie, even though I would have been glad to leave just because the kids were restless. It is safe to say we won't even try to rent this when it comes out on DVD. It's just not our type of movie.