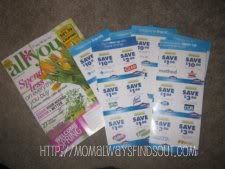 I have my extra copy of the March 25, 2011 ALL YOU magazine & 6 sheets of Lowes coupons I recently got from Vocalpoint that I would like to give away to someone who loves to use coupons!
*The Lowes coupons are marked Manufacturer coupons – but say "Redeemable only at Lowes" on the back. I heard Walmart's new coupon policy will accept coupons that are marked Manufacturer coupons, even if they are for another store – but I have not tried this yet. If you have, please let me know if you had success or not.*
I don't have the list of everything included in the March 25 issue of ALL YOU, but there is $81.39 worth of coupons in there.
Here is the list of Lowes coupons (you will get 6 sets of these & they all expire 4/30/11):
$10/Idylis HEPA Allergy-Removing Air Purifier with UV-C
$2/Glad Product
$1/Simple Green Naturals Glass & Surface Cleaner
$1/Lysol Disinfectant Spray
$1/Clorox Wipes
$1/Swiffer Starter Kit
$1/Method Hand Soap
$10/Bissell Healthy Home Vacuum
$1/Case of Nestle Water
$3/PUR Horizontal Faucet Mount- Chrome Water Filter
$2/Brita Bella Pitcher
$3/Filtrete Maximum Allergen Filter
This giveaway will be open for entry until Friday, March 11, 2011 at 11:59PST. One random winner will be chosen by the WordPress Plugin "And the Winner is." I will email the winner and the winner will have 48 hours to claim their prize.
Here's the EZ part – Mandatory Entry: Follow this blog on Google Friend Connect & Leave a comment with your e-mail address so I can contact you if you win!
Want Bonus Entries? Of course! Each of these is worth 1 extra entry each – leave separate comments for each entry.
Like me on Facebook
Follow Me on Twitter
Vote for me on the Picket Fence 1x daily extra entry (just click the button on my right sidebar & you're done!)
Tweet and/or Share this giveaway on Facebook.
Tweet and/or Share any of my other giveaway links on Facebook.