First things first. Do you know how to pronounce the word "quinoa"? I'm only asking because I thought it was something like "kwee-no-ah" and it wasn't until months later while I was shopping for some quinoa that I overheard people talking about it and realized that I had been mispronouncing it all that time. Luckily, I had only been saying it that way in my own head.
So, for those of you who are still wondering, the proper way to say it is "keen-wa".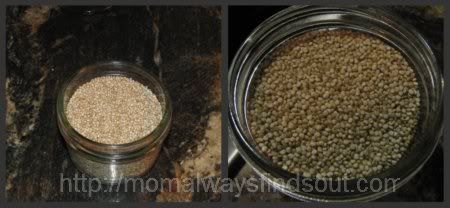 What is Quinoa? (And why you should eat it.)
Quinoa is a seed that is light, fluffy, and tastes more like a grain than a seed. The mild, nutty flavor appeals to most people, including children. Although quinoa has been around for more than 5,000 years, it is increasingly popular in our culture these days, as news of its health benefits spreads worldwide.
This superfood is power-packed with protein (12-18 percent), more than any other grain! It contains all 9 essential amino acids, is gluten-free, high in dietary fiber, and is a good source of calcium, phosphorus, magnesium, copper and iron.
Quinoa is an excellent food choice for people with certain types of dietary restrictions. Besides being gluten-free, the high protein content makes quinoa a staple item for vegetarian and vegan diets.  An added bonus is that quinoa is easy for most people to digest.
Easy To Cook!
Cooking quinoa is similar to cooking rice. Simply bring it to a boil in water, reduce heat and simmer for 15-20 minutes. Fluff it with a fork and it's ready to serve.
The next time your meal calls for rice or couscous, try substituting quinoa in its place.
Do you have a favorite way to serve quinoa? Let me know in the comments.