This is a Sponsored post written by me on behalf of White Cloud for SocialSpark. All opinions are 100% mine.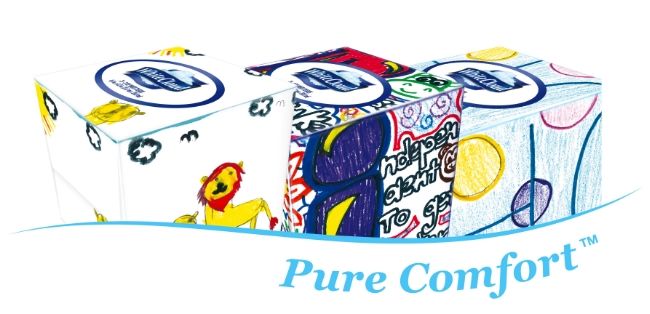 Brightly colored tissue boxes adorned with polka dots, sunshine, and lions are sure to catch your attention! The new White Cloud tissue boxes were not designed by just any old artists – they are the imaginative pictures created by kids from Children's Miracle Network hospitals.
Earlier this year, White Cloud teamed up with Children's Miracle Network. They asked children receiving treatment at CMN hospitals to create new tissue box designs. Kids submitted their creations and the Top 10 submissions were posted on the White Cloud Facebook Page, where fans like you voted for their favorites.
The votes are in, and 3 winning designs were selected to be featured on White Cloud Facial Tissue boxes. Each of the 3 winning artist's hospitals will be presented with a $15,000 donation on behalf of White Cloud. I am sure those hospitals are proud of their talented artists! I think it is wonderful that White Cloud gave the kids this unique contest opportunity and that they support the Children's Miracle Network hospitals. I will be looking for the newly designed boxes the next time I go to Walmart.
Contest Winners' Designs Available Now!
The winning designs can be found on White Cloud tissue boxes on sale for a limited time beginning May 24. The White Cloud brand is sold exclusively at Walmart. Use the White Cloud Store Locator to find out if this product is carried in your area.
Have you seen the new tissue box designs in stores yet? Did you know the artists were kids from the Children's Miracle Network hospitals? Will you look for the children's designs on White Cloud tissue boxes the next time you are at Walmart?
White Cloud Tissue Coupon!
Be sure to watch for the $0.75 off coupon in July's ALL YOU magazine.
Follow White Cloud Pinterest Page and White Cloud Twitter Page for the latest news from White Cloud.