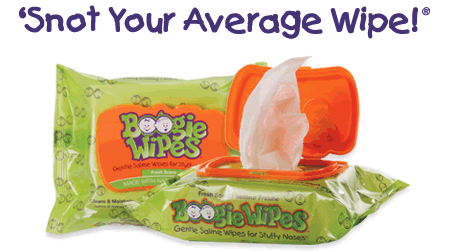 Every parent knows what it's like to try to scrape crusty boogers off a child's face – or at least I like to think I'm not the only one whose kids' runny noses can get kind of gross sometimes. Boogie Wipes are a great alternative to regular, dry tissues that don't do much to clean little noses and can hurt, too! What makes using a Boogie Wipe so different? Boogie Wipes use Saline to break down mucus, fast.
Boogie Wipes are also alcohol-free, extra soft, and moisturize with Vitamin E and Aloe to prevent chapping from frequent wiping and blowing. They come in Simply Unscented, Great Grape, Original Fresh, and Magic Menthol. Recommended by pediatricians as a gentle, effective alternative to dry tissues.
We received 2 packages for review: Original Fresh and Great Grape. I'm already a fan of Boogie Wipes (with 3 kiddos and their noses to take care of, I have learned to love these during cold season!) My kids don't mind me wiping their runny noses quite so much when I'm using a soft, saline-wet wipe. And I have even started using them myself…why should the kids get all the good stuff? My nose likes Boogie Wipes too!
The latest Boogie Wipes campaign is called "Save the Sleeve." It is a fun, interactive way for kids to learn to put their boogies in a Boogie Wipe and not on their sleeve! You can learn more at SaveTheSleeve.com.
Where can you buy Boogie Wipes? Just about anywhere, nationwide. Visit the Boogie Wipes website for their Store Locator.
Connect with Boogie Wipes on Twitter & Facebook.
Visit the Boogie Wipes website to become a member of The Boogie Bunch (and get coupons!)
WIN (2) Full Size Packages of Boogie Wipes! Giveaway is open until May 7 at 11:59pm PST. Winner will be selected by "And The Winner Is" plug-in and e-mailed with 48 hours to claim their prize.
Mandatory Entry: Visit Boogie Wipes and let me know you favorite scent of Boogie Wipes. Please be sure to leave the Google Friend Connect name you use to follow Mom Always Finds Out in your Mandatory Entry comment so that your entries will count, thanks!
Bonus Entries:
*Follow Boogie Wipes on Twitter.
*Like Boogie Wipes on Facebook.
*Join The Boogie Bunch.
*Follow Mom Always Finds Out on Twitter.
*Like Mom Always Finds Out on Facebook.
*Tweet and/or Share this giveaway on Facebook (1 extra entry per day, per method)
Disclaimer: I was provided 2 packages of Boogies Wipes free of charge for review purposes. Sponsor is responsible for prize fulfillment.