Let me just start by stating the obvious: I am not a professional cake decorator. But I have a little boy whose only request for his birthday was a Lightning McQueen birthday cake. The pressure was on – but I'm here to tell you that with a little (ok, a LOT) of help from Wilton's Lightning McQueen shaped cake pan, I was able to pull off a pretty good Lightning McQueen cake.
I wanted to share this with you because I know lots of little CARS fans may be asking for a Lightning McQueen cake – and wanted to let you know that YOU CAN MAKE ONE, it really isn't that hard, I promise.
Here's the BEFORE photo: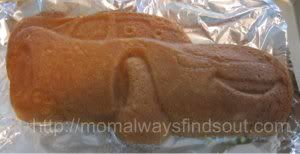 And AFTER: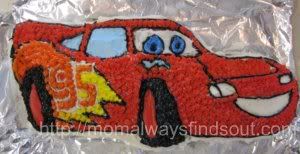 I probably could have done a neater job if I hadn't been in such a time crunch to finish the cake. I didn't realize that decorating a cake with little bitty star-shaped icing tips takes time. I had to squeeze out about 1.3 million of them on the cake.
Here are the main tools you need to make this cake:
Lightning McQueen Cake Pan (from Wilton)
CARS icing color set (from Wilton)
Decorating Tip #3, #16, and #21 (from Wilton)
All the step by step instructions on how to make and color the icing and decorate the cake are included on the sheet that comes with the cake pan. It was super easy to follow the instructions. The most time consuming part was having to make and color the icing – then every time you changed colors and needed the tip, you had to wash the tip out. I almost wished I had several tips in the same size so I didn't have to wash them over and over. (I know, I'm lazy like that.)
Bottom Line: This was such a cute, easy and fun way to make a Cars Lightning McQueen birthday cake. Don't let lack of skills scare you away from making this cake. If I can do it, anyone can do it. It's not perfect, but my birthday boy loved it and that made every one of those 1.3 million icing stars I squeezed out totally worth it!