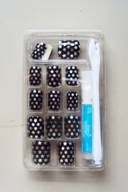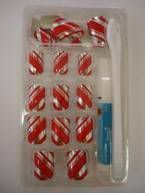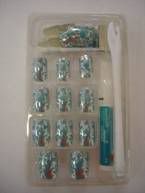 The *Spa For Ma* Giveaway Hop begins Wednesday 8/17.  Pretty Woman USA will send 2 Airbrushed Nail Kits to the lucky winner of my Spa For Ma prize package.
Treat yourself to a manicure at home. Pretty Woman USA Nail Accessories offers Do-It-Yourself manicure kits in the latest colors and trendy designs. Get the perfect "bling" for your nails that will last for days!
About Pretty Woman USA
Pretty Woman is leading the market in bringing new and innovative products in the artificial nail category. The company's new Metallic nails and nail foils have been introduced to retailers and the professional market over the past year. Its extensive libraries of designs are specifically developed to expand upon the same 'beiges and pinks' that are already redundant in today's USA Planogram. They are designed to increase the market while not cannibalizing what is already there.

Pretty Woman is also one of the larger suppliers of OEM nail polish in the USA , shipping more than 15 million bottles per year. Our base in the professional market, under our European brand, Kinetics, has enabled Pretty Woman to consistently be the first to introduce salon innovations into the retail market. Pretty Woman is a $25+ Million company, worldwide, with more than 450 employees in its factory in China , and their Latvia and United States offices. Pretty Woman owns its own factory and uses the latest nail molds and nail production techniques at a capacity of over 2.5 million nail shots per month. The company's customers in the United States include Rite Aid. In addition, they sell Claire's and Icing under their own private label brands.
Disclaimer: I received no compensation in exchange for this blog post.