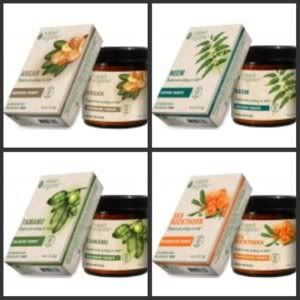 Naked Organix Body Butters and Soaps is a line of luxury skin care for all ages, handcrafted from organic and sustainably harvested ingredients.  There are 4 matching body butter/soap combos, each featuring a different and exotic plant-based ingredient to protect, repair, and moisturize your face and body.
Sea Buckthorn:  Rich in Essential Fatty Acids and antioxidants – ideal for cellular rejuvenation and protection from signs of aging
Argan:  Rich Source of Essential Fatty Acids and Vitamin E to nourish dry skin
Tamanu:  Tamanu's oil is beneficial to calm and balance sensitive, blemish-prone skin
Neem:  Gentle and nourishing Essential Fatty Acids and antioxidants, known for its effectiveness on even the most sensitive skin
Naked Organix Body Butter and Soaps are paraben free, SLS free, gluten free, petrochemical free, ohthalate free and fragrance free for those looking for pure, unadulterated botanical formulas.
My family and I have recently had the chance to include Naked Organix soaps in our bath routine.  Each botanical soap formula we tried (Sea Buckthorn, Tamanu, and Neem) was found to be both gentle and moisturizing on our skin.
I reserved the Argan Body Butter for my own personal use.  The body butters can be used to moisturize your face, body and lips.  I like that this body butter has a nice, thick consistency.  A small dab of the butter will go a long way.  You will be able to see the oils as you massage the butter into your skin, and you can watch as it absorbs to nourish even the driest areas of your body.
The Argan Body Butter has become a favorite product of mine – I find myself reaching for it throughout the day.  I frequently wash my hands and love to replenish the moisture with this body butter.
WHERE CAN YOU PURCHASE NAKED ORGANIX?
Naked Organix products are available at health food stores, pharmacies, yoga studios and other fine outlets.  For more information, visit Organix South or call 888.989.NEEM.
Disclaimer:  I was provided Naked Organix products for review purposes.  All opinions expressed are 100% mine based on my personal experiences with the products.  Your experiences may be different.